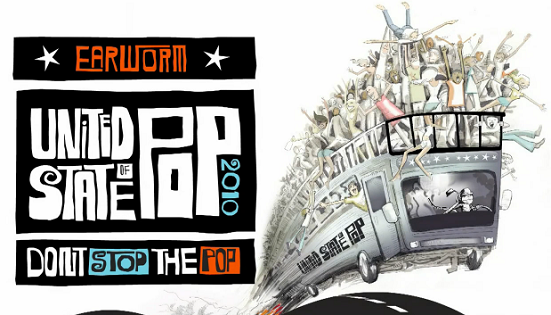 Qué alegría me he llevado al ir a la web de DJ Earworm y encontrar que ya tenemos disponible el United State Of Pop 2010. Os recordaba hace unos días que debía estar al caer, y así ha sido. El maestro del mashup vuelve con el bootleg que aglutina los éxitos más sonados del año de este todavía 2010.
Ha utilizado como base principal el fondo del "California gurls" de Kate Perry pero no faltan los éxitos del año de Rihanna, Ke$ha, Lady Gaga, Taio Cruz, Usher y unos cuantos más. Una vez más, una maravilla ver cómo coge frases de cada tema para hacer otras frases, aparte del resultado global, claro está.
Tras el salto tenéis el vídeo, el tracklist de las canciones incluidas en este United State Of Pop 2010 y el enlace para descargar el mp3 desde Mediafire (publicado por el mismo DJ Earworm).
Tracklist
Ke$ha – Tik Tok
Lady Antebellum – Need You Now
Train – Hey, Soul Sister
Katy Perry Featuring Snoop Dogg – California Gurls
Usher Featuring will.i.am – OMG
B.O.B. Featuring Hayley Williams – Airplanes
Eminem Featuring Rihanna – Love the Way You Lie
Lady Gaga – Bad Romance
Taio Cruz – Dynamite
Taio Cruz Featuring Ludacris – Break Your Heart
B.O.B. Featuring Bruno Mars – Nothin' On You
Enrique Iglesias Featuring Pitbull – I Like It
Young Money Featuring Lloyd – Bedrock
Jason Derulo – In My Head
Rihanna – Rude Boy
Lady Gaga Featuring Beyonce – Telephone
Katy Perry – Teenage Dream
Bruno Mars – Just the Way You Are
Mike Posner – Cooler Than Me
The Black Eyed Peas – Imma Be
Jay-Z + Alicia Keys – Empire State of Mind
Usher Featuring Pitbull – DJ Got Us Fallin' In Love
Travie McCoy Featuring Bruno Mars – Billionaire
Eminem – Not Afraid
Iyaz – Replay
Vía | www.djearworm.com
Link | Descargar mp3